Fish & Fruit Pellets 5kg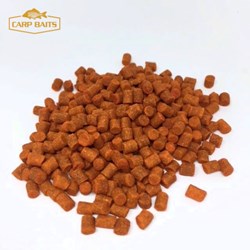 Fish & Fruit Pellets 5kg
Voorraad:
5
€
31
,
95
Fish & Fruit Pellets 5kg
This coloured variant of pellets is complete feed for carps and other cypriniformes.
The pellets are made of ingredients such as fish flour, fish oil and various types of grain & corn.
Once in the water, these pellets start to melt and directly emit their aroma with a long-lasting effect. Their water-stability is limited (less than 30 minutes) and they do not quickly satiate fish, which makes them linger on your spot. These pellets can certainly make a difference in waters where many anglers go fishing. However, the feature that makes ou Pellet Range so special is the fact that once these pellets come into contact with water, a 'cloud effect' occurs. In water, the pellets release a highly appealing (coloured) cloud that is full of attractors and that instantly sends a strong signal. They have undergone extensive tests, and time and time again they proved irresistible.
Orange 4,5mm Pellets
Available in 1kg bags, 2kg buckets & 5kg bags